Great Barrier Reef Scenic Flight
Explore the beauty of the Great Barrier Reef in a 30 minute scenic flight!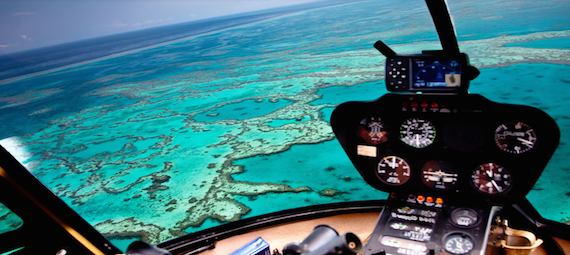 Take off from Cairns City and experience the sheer size and beauty of the Great Barrier Reef on this spectacular 30 minute scenic helicopter flight! See this incredible Natural Wonder of the World and all of its incredible colours, corals and marine life from an angle few get to experience – it's a panorama that is truly stunning, and over the course of the 30 minute flight you'll fly over beautiful reef islands, pristine turquoise waters and untouched coral cays along the way. Soar over local icon Green Island, gaze directly down into the marine-life-filled Arlington Reef, pass over Vlasoff and Upolu Sand Cays and much, much more.
Join your knowledgeable and experienced pilot-guide as they provide you with an expertly-flown trip above the reef, providing detailed commentary and insight on all the natural highlights that make this massive marine organism such a stunning and unique feature. You've never seen the Great Barrier Reef quite like this – if you're after the ultimate Tropical QLD sightseeing experience, book yourself a reef helicopter flight online today!
Highlights:
Green Island
Arlington Reef
Vlasoff Sand Cay
Upolu Sand Cay
Book a Great Barrier Reef Scenic Flight